Introducing Cover Design with SmartAlbums 2022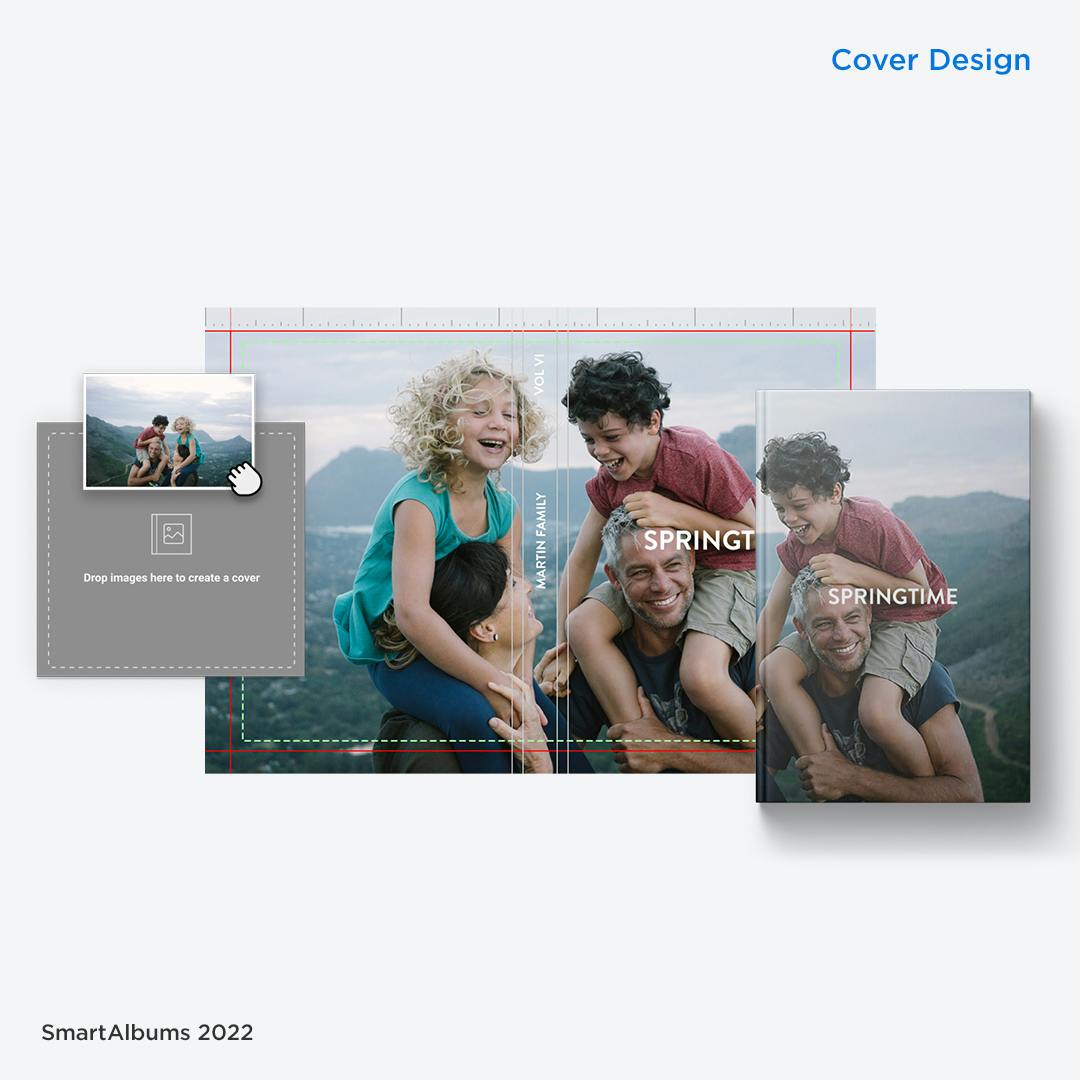 Cover to cover album design is here with the launch of SmartAlbums 2022. 
We said from our outset that our mission is simple — to help busy professional photographers simplify their workflow and earn more money. Over the years, we've worked hard to listen to those of you who use our software to bring you the tools you need, packaged in a way that makes them easy and intuitive to use. That's why we're so excited about the launch of SmartAlbums 2022 and the implementation frequently-requested feature — Album Cover Design. 
You can now create stunning print-ready photo album covers without ever leaving SmartAlbums. We've included all the tools you need to create a beautiful cover to complement your album. Add photos, solid color blocks, patterns, and text, then when your design is complete, easily review your design as a rotatable 3D graphic in Cloud Proofing. 
Design an album cover in SmartAlbums 2022
Just like the rest of our time-saving software, designing a photo-wrap cover in SmartAlbums is quick and easy. 
To get started, open up a new project and create the first spread. You'll immediately see the ghost cover spread appear immediately to the left. 
You can begin designing your photo album cover by double-clicking on the ghost cover spread or by dragging and dropping the images you wish to use — this will open the Cover Design Wizard. Inside this Wizard, you can choose between uploading the cover design file provided by your print lab or manually entering the correct cover dimensions. 
If you choose to upload a cover design file from your print lab, you'll see all the relevant information and guidelines appear on the spread. 
Once you've specified the cover dimensions or uploaded a design file, you can easily create a stunning print-ready cover using images, text, patterns, and solid color blocks. 
Any text included on the cover can be rotated to vertical for the album spine by selecting the text and using the left or right arrows in the toolbar above. 
Solid fill is a great way to help make any text more legible. You can locate this in the pattern browser. Drop it onto your spread and drag the handles until it's the correct size for your needs. 
Once your design is complete, you can export your cover and spreads — or just your cover by itself — for print. Alternatively, you can export your cover as a preview in Cloud Proofing. Your clients can review it as a rotatable 3D graphic which they can comment on, request changes, and approve for print. 
How to access SmartAlbums 2022 and Cover Design
If you're already a SmartAlbums user, accessing our new Cover Design Function is easy — Log in to your Pixellu account online and download the latest version from the "My Subscriptions" tab. We may have already prompted you to upgrade within the SmartAlbums app. 
If you're not a current SmartAlbums customer, you can try our new Cover Design Function by beginning a free trial. Trials last for 14 days, and there's no credit card required to start one. Or subscribe to SmartAlbums, by visiting our Pricing Page.
Subscribe
Get industry insights and inspiration direct to your inbox