What's the Story with Stories? Our Guide to Instagram Stories for Photographers
If you've got an Instagram account for your photography business and you're not regularly using Instagram Stories, then you could be missing out. While your Instagram feed functions as a beautifully curated portfolio of your best images, Instagram Stories is the perfect place for your clients to get to know you — what you're like to work with, your process, and what to expect from a session.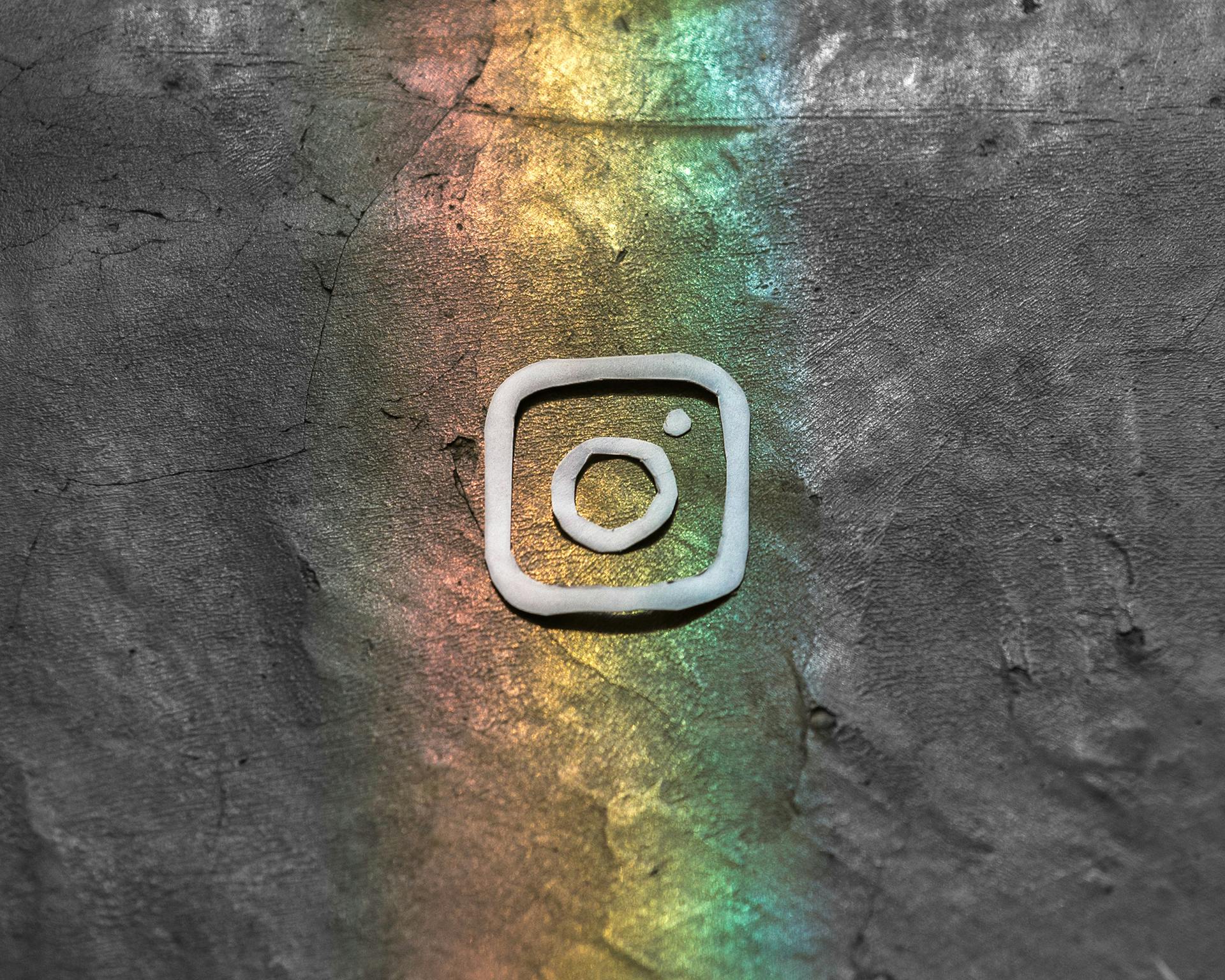 Why Instagram Stories are a powerful tool for photographers
Each day, 500 million users access Instagram Stories — that's half of Instagram's entire user base. Since its launch in 2016, Instagram Stories has grown at an incredible rate, opening the door for brands, personalities, and service providers alike to connect with their audiences and customers on a more personal level. Customers and consumers are so hungry for more authentic content that while Instagram's user numbers are increasing, the average number of feed posts published by influencers has declined every year since Stories entered the scene.
With those statistics in mind, we've written the ultimate guide to increase engagement using Instagram Stories. Each tip is designed specifically for photographers to help you win new photography clients, reflect the value of your services, and illustrate your professionalism and creativity as a photographer.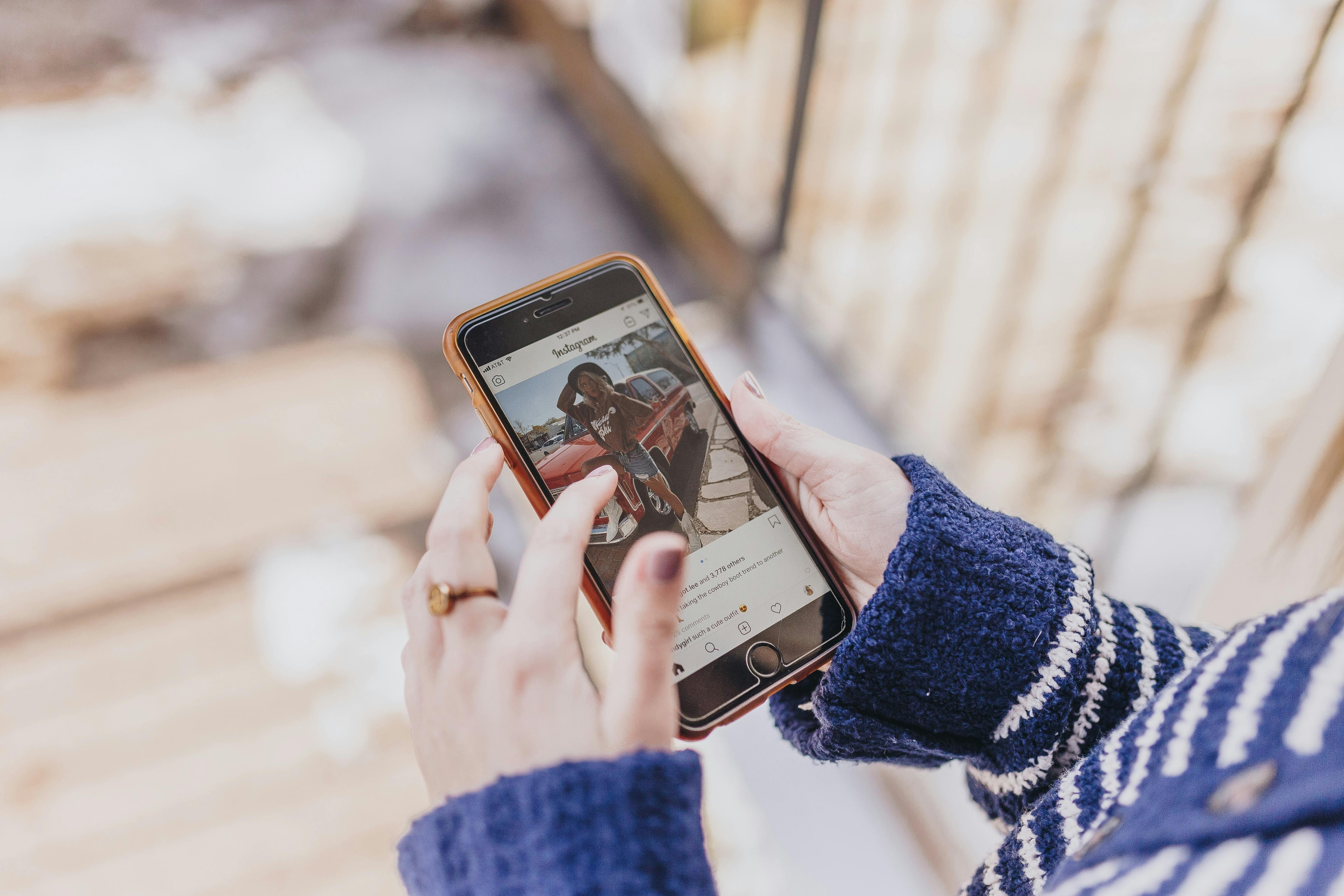 1. Get out from behind the camera
We're starting with this one because it's one of the most important. As photographers, we're inclined to only share photos of others — other people, other places, other things. Regardless of what the algorithms are doing today, social media is, first and foremost, a social platform. It allows us to humanize our businesses and connect with our clients on a more personal level. We want our clients to trust us to capture their most important moments, so we need to allow them to know and trust us. Our clients aren't putting their trust in a camera; they're putting their trust in you as a human. By stepping in front of the camera, you can talk to them directly. You can share your own hopes, dreams, goals, and aspirations — you can connect with them on an authentic, human level in a way that your camera alone cannot.
2. Behind the scenes
The informality of behind-the-scenes is perfect for Instagram Stories. It gives your followers a chance to see what it's like to work with you. You can share everything from your prep and gear set up to mood boards, location scouting, and how you make the magic happen while you're shooting. It's an opportunity for you to show your clients how much time and effort goes into every single shoot. 
Many well-known photographers, such as @erichmcvey, @ktmerry, and @ikeandtash, regularly update their Stories with behind the scenes content. They often share their shoot locations, who they were shooting with, and any antics that happen throughout the day. 

Photos via @erichmcvey (image 1), @ktmerry (images 2, 3, & 4), and @ikeandtash (image 5).
3. Q&A sessions
One of the most overwhelming aspects of social media is the relentlessness of the notifications. From direct messages and tags to questions within the comments, and more. It's a never-ending stream of buzzes and pings that unfortunately encourages us into an "always-online" pattern of behavior. 
Use your Instagram Stories and Highlights to answer those FAQs regularly — this allows your followers to have their questions answered without having to wait for a reply. Bonus points: It can help reduce the number of messages and comments you have to reply to in detail. 
Pro tip: Use the Question Sticker feature to boost engagement by making it incredibly easy for your followers to submit a question. We love the way @benjhaisch has saved his questions and answers as a highlight to make it easy for potential clients to get answers to their burning questions.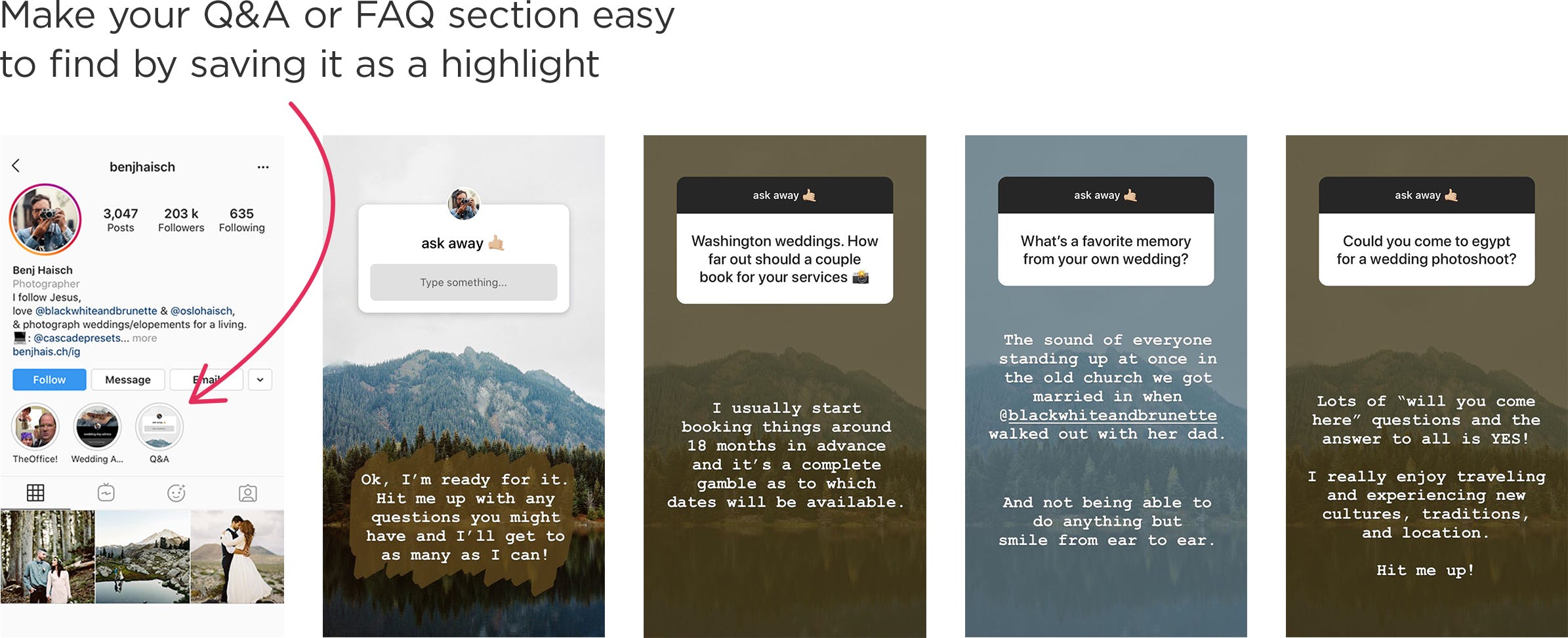 Photos via @benjhaisch. 
4. Before and after photos 
Quick, easy, and you can share multiple before and after images without them getting boring. If you're short on ideas, this is a great place to start. Simply share your photo before you've edited it, then share your final edited photo as the very next story image. Non-photographers love to see how drastically an image can change once edited, plus it allows you to illustrate the value of your services — after all, your clients are paying for more than just one-day shooting.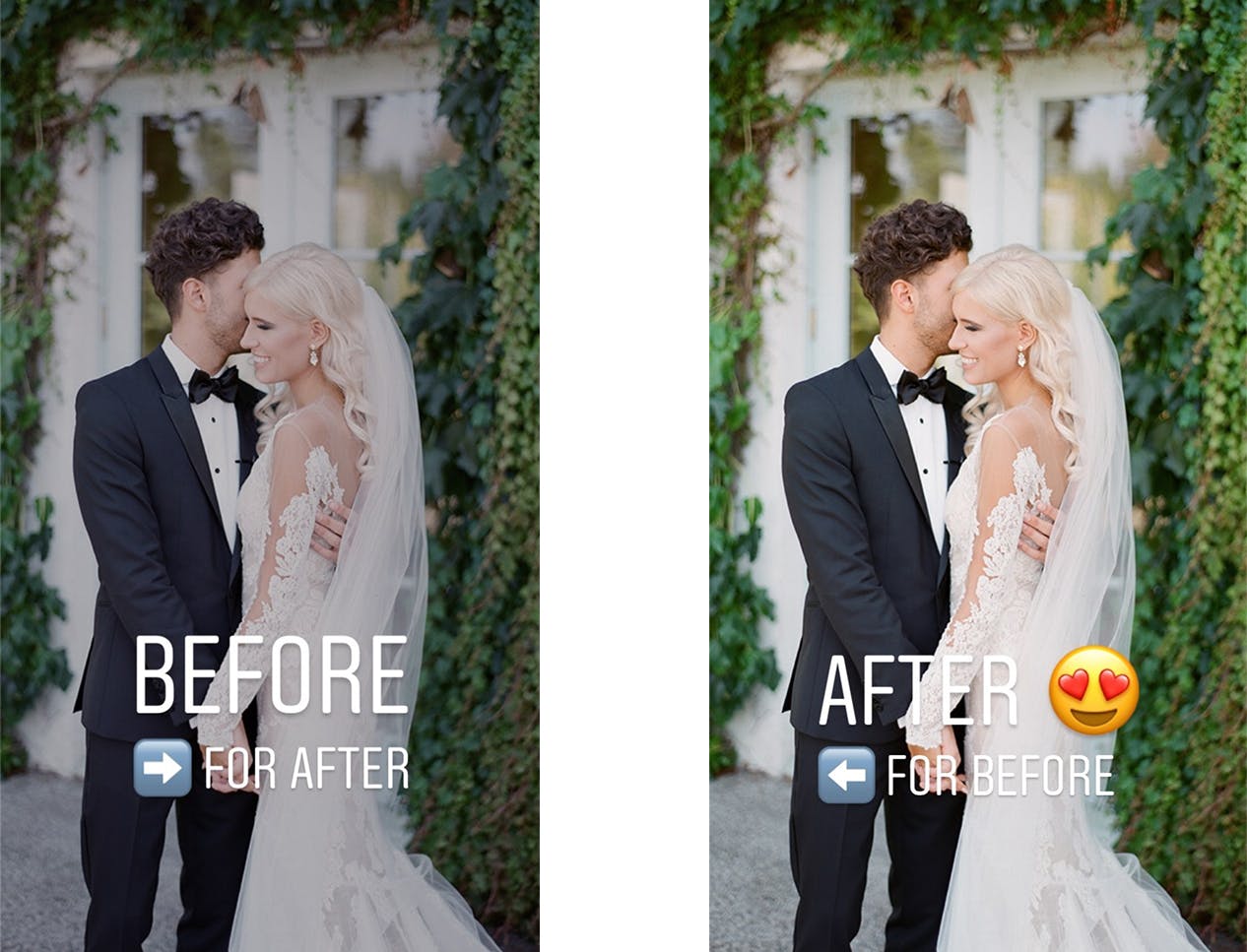 5. Timelapse your editing
Much like our point above, a timelapse featuring your editing process for a single image is going to encourage engagement. People like to see how things come together, especially when they can watch it happen in front of their eyes in seconds. Sharing a timelapse of your editing process is a great way to illustrate the value of your services and highlight that there's more to the process than just snapping a few photos. 
Pro tip: Keep your timelapse videos to 15 seconds or less. Otherwise, Instagram will divide it up into multiple parts. 
6. Ask their opinion
People love to share their opinion, especially when it only requires one click. Get creative with Poll Stickers within your Stories to gather feedback from your audience about their preferences, while boosting your engagement. Use your own photographs and give them two options to choose between — try asking them which editing style they prefer, which location they'd want to be photographed in, or which moment makes their heart melt the most.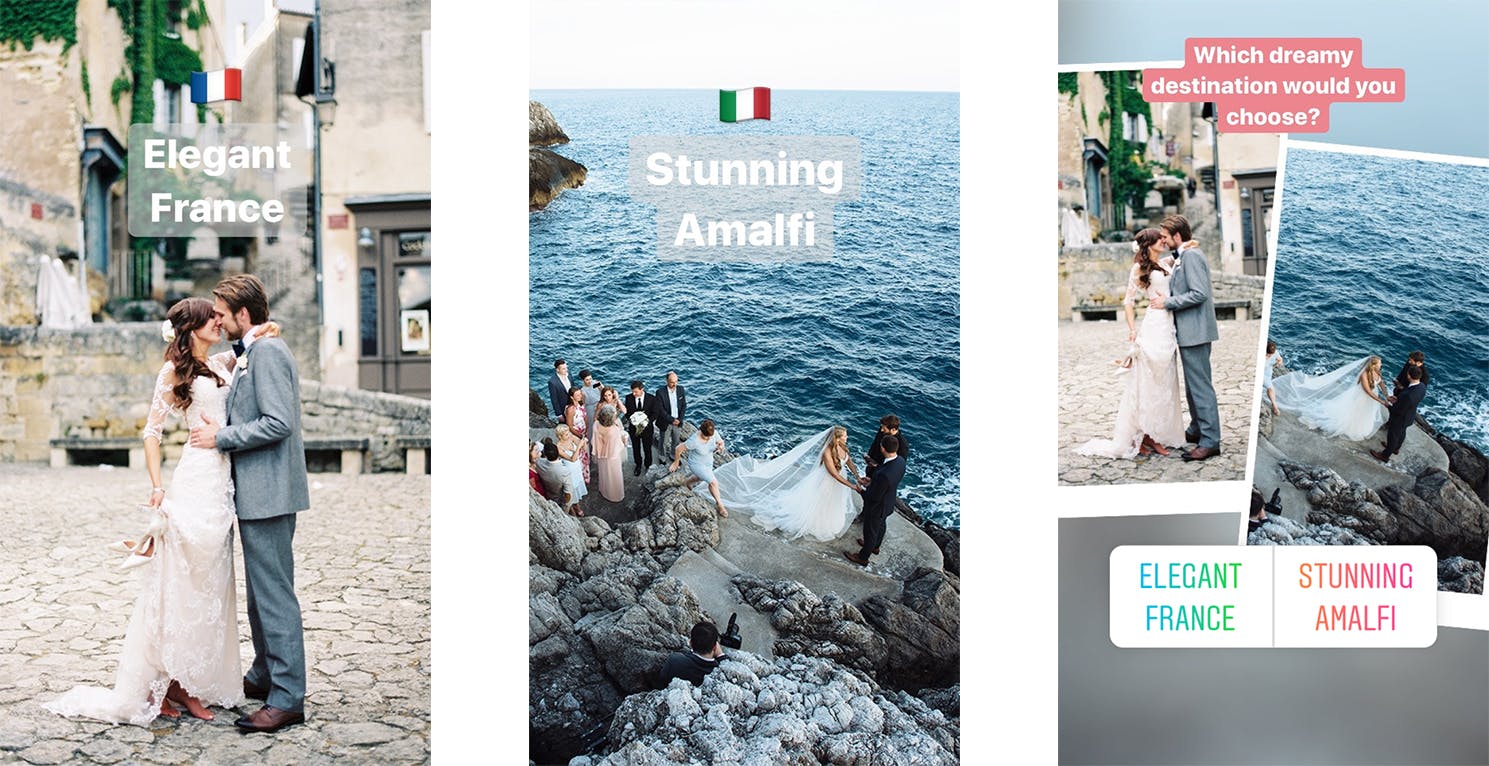 7. Share your growth
Instagram is quickly moving away from a platform where everything needs to be perfect, and nowhere is this more obvious than in Stories. When you attend a course, a workshop, or learn a new technique, share it. Explain how this helps you or how you want to implement your new knowledge in the future. It's the perfect way to reveal to your audience how professional you are and that you care about your craft and want to improve continually. 
8. Show off your gear
People are fascinated by photography gear. While sometimes it feels like anyone who buys a DSLR (or even an iPhone) thinks they can be a professional photographer, that's not actually the case. Most people are simply interested in how you take a seemingly ordinary perspective and make it appear magical.
Gear shots may not fit in with what you choose to share in your Instagram grid, but your Stories are the perfect place to highlight the kit that helps you bring those magical moments to life. Beyond being interesting, the ability to describe and detail the gear you use paints you as a professional who has the skill, knowledge, and creative flair to take complicated-looking technical equipment and create art with it. 

_____
If you're on the hunt for more ways to boost your photography business, try reading our blogs on creating connections using social media, generating more referrals as a photographer, plus online marketing for photographers (written by Mark Condon of ShotKit). 
Subscribe
Get industry insights and inspiration direct to your inbox