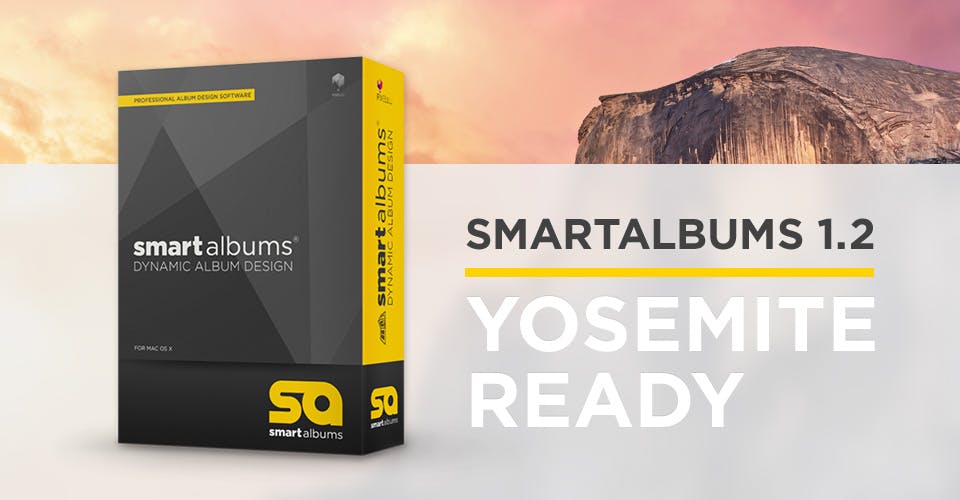 We've made a host of updates to SmartAlbums and are happy to release Version 1.2.
WHAT'S NEW
FULL YOSEMITE SUPPORT
Enjoy the industry's most innovative album design software on the world's most advanced desktop operating system: OS X Yosemite
PDF/X-3 EXPORT
Ability to export compliant PDF/X-3 files for Blurb's PDF to Book workflow
PRODUCT DEACTIVATION
Easily deactivate a previous product activation when replacing or switching computers (each license allows up to two product activations)
OTHER UPDATES
We are committed to consistently improving the SmartAlbums experience with the goal of developing a tool that is ever intuitive, reliable, and easy to use. Version 1.2 includes numerous bug fixes and performance enhancements.
SmartAlbums 1.2, while compatible with OS X Yosemite, is also compatible with OS X Mavericks, Mountain Lion and Lion (OX X 10.7 - 10.10).
If not prompted to update automatically, follow these steps to install the update manually:
1. Open SmartAlbums
2. From the SmartAlbums menu, choose SmartAlbums > Check for Updates
3. Follow the prompts to install the latest version
We hold high expectations of our products and work daily to develop tools that help elevate your business while saving you valuable time. If you have any questions, do not hesitate to email us at smartalbums@pixellu.com.
Back to Blog Posts