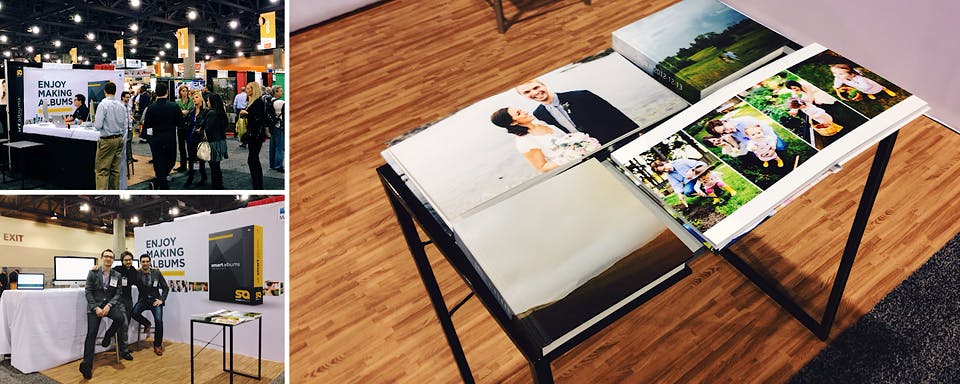 A few weeks ago the Pixellu team attended its first photography tradeshow - Imaging USA 2014. This was the first time that we could show off SmartAlbums in person and to watch people react to the demo. The reactions usually consisted first in shock and awe, and then quickly turned into a feeling of relief, as photographers realized that album design no longer has to be difficult and frustrating.
This is our biggest reward - to see people happy. And not just read about it on Facebook, but to see the real human excitement in person as we show how life can be just a little easier with SmartAlbums. Even though we demoed the software to hundreds of people and said the same things over and over again, we never got tired of it. As new people came up to inquire what we are about, every single time we were excited to show photographers something that will change their life (even if in a small way) and to watch their reaction. As our current user put it when he said to a photographer about to see the demo: "Get ready, this is going to blow your mind".
And blow their mind it did. One photographer couldn't refrain from swearing when she saw the drag & drop simplicity, another said he will now start to offer albums, many others returned to our booth with their friends, who also had the seeing-SmartAlbums-for-the-first-time "this can't be real" reaction. These were very fun and exciting three days.
Meeting our current users with whom we interacted over Facebook was very enjoyable as well. Being able to thank those who believed in our product from the very beginning was special. We couldn't get to this point without our supporters. It was good to connect the Facebook profile photos to real people, and to see all these real people who use our software.
Just a few days after Imaging USA, our team traveled to Conneticut to be a part of Mystic Seminars. This was a much smaller conference, which allowed for longer conversations and gave us a chance to build friendships with many of the photographers attending the seminar. Many of the speakers showed their support by talking about our software during their classes. Being such a new company, it is a very humbling experience to be vouched for by some of the best photographers in the world. Receiving such amazing reception and feedback is an amazing feeling, especially remembering the months of work that have been put into the project to make SmartAlbums possible.
We are looking forward to going to more conventions this year, showing SmartAlbums to more photographers, interacting with them in person, and discussing how our software can help them get a little bit of their life back. And to see those reactions, of course. We look forward to meeting you as well. If you are planning on attending the Inspire Photo Retreat, WPPI, or Canada Photo Convention, please come by our booth to say hello, especially if you are a current SmartAlbums user. We would love to thank you for your support in person.
Daniel Usenko
Creative Director
Back to Blog Posts